Surplus and Reconditioned Valves Purchases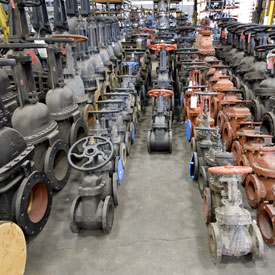 A&L Valve purchases excess inventories of new, surplus, and reconditioned valves. Please send us your list. We offer C.O.D., or terms to our customers. Consignment sales/services are available.
Please email, fax, or phone A&L your selection
E-mail:

Phone number:
(713) 643-4400
Fax number:
(713) 643-4470
WE BUY THE FOLLOWING!!!!
FORGED VALVES
CHROME VALVES
ALLOY VALVES
CAST VALVES
API 6-D VALVES
CONTROL VALVES
RELEIF VALVES
BALL VALVES
TUBE FITTINGS
TUBING VALVES
TUBING
FLANGES
FITTINGS
TRANSMITTERS
ACTUATORS
PUMPS
MOTORS
PIPE
INSTRUMENTATION
PILOT VALVES
STEAM TRAPS
STRAINERS
ALOYCO, CRANE, WALWORTH, POWELL, KITZ, LADISH, FARRIS,CROSBY, CONSOLIDATED, ANDERSON GREENWOOD, SWAGELOCK, PARKER, WHITEY, BETTIS, LIMITORQUE, ROTORK, EIM, ROSEMOUNT, FISHER, WKM, KF, TK, GROVE, KEYSTONE, XOMOX-TUFLINE, DURCO, CONBRACO, COOPER, NORDSTROM, VELAN,VOGT, EDWARD, BONNEY FORGE, SARCO, MUELLER